Fatigue Beating Recipes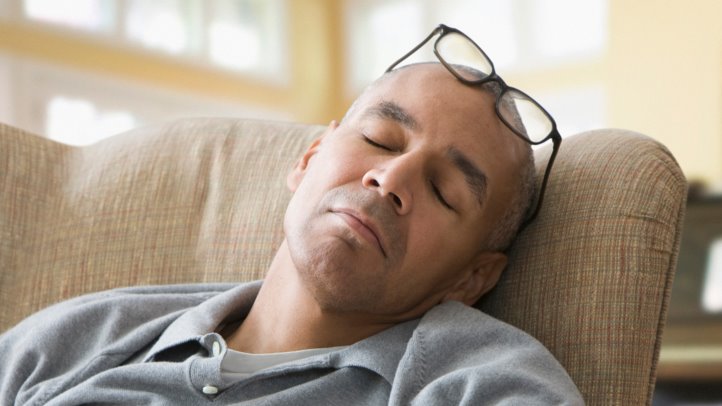 So here is a fact caffeine is not the way to boost your energy levels. yes it's nice to have this boosting coffee after lunch but once you go for it because you need it you should stop.  here are some fantastic recipes that help fight fatigue much better:
Banana-Almond Energy Bars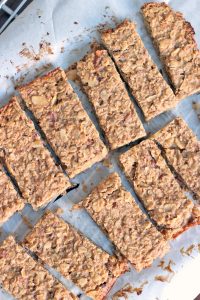 Almonds have high amounts of fiber, protein, and healthy fats; bananas are a wonderful source of potassium. Get your fill of both hearty ingredients with these bars that will keep you satisfied.
Ingredients
1 1/2cups regular rolled oats
1/3cup sliced almonds, crushed
1egg
1/2cup mashed banana
1/3cup almond butter or peanut butter
1/3cup honey
1/4cup whole wheat flour
1teaspoon baking powder
1teaspoon apple pie spice
1/2teaspoon vanilla
1/4teaspoon salt
1 1/2cups wheat and sweet potato flake cereal (Kashi) or whole grain flakes (bran flakes)
3/4cup dried apples snipped into small pieces
Preparation
Preheat oven to 350 degrees F. Line a 9-inch square baking pan with foil, extending the foil over the edges of the pan. Spread oats and almonds in a 15×10-inch baking pan. Bake about 8 minutes or until lightly toasted. Let cool on wire rack.
In a large bowl lightly whisk the egg. Add the next eight ingredients (through salt); whisk until well mixed. Add the cereal, dried fruit, and cooled oats and almonds to banana mixture; stir until combined. Spoon into the prepared pan, spreading evenly.
Bake about 20 minutes or until browned around edges. Cool completely in pan on a wire rack. Use edges of foil to lift uncut bars from the pan. Cut into 16 bars.
Recipe Credit: bhg.com
Superfood Energy Bars with Cacao
These homemade bars are packed with superfoods and bound with coconut oil. Eat a bar with a light protein shake, hard-boiled eggs, or a homemade latte, and enjoy a crash- and hunger-free afternoon.
Ingredients
1 cup walnuts
1/3 cup chia seeds
1/3 cup ground flax seeds
1/3 cup hemp seeds
1/4 cup cacao nibs
1/4 cup coconut flakes
3/4 cup pumpkin seeds
1/2 cup raisins
1 cup dates
1-2 tablespoons melted coconut oil, if needed
Preparation
Throw the dry ingredients (keep a little bit of each ingredient to add in a second) in your food processor, then add the dates and raisins and process until everything it starts to stick together. If too dry, add more dates or coconut oil. Put in the remaining dry ingredients you left out and mix in with your hands. Press into a lined pan and set in the fridge for an hour or more. Cut into bars and store for up to one week. If you have extra, shape them into cupcakes and top off with raw chocolate.
Recipe Credit: thisrawsomeveganlife.com
Mint and Green Tea Smoothie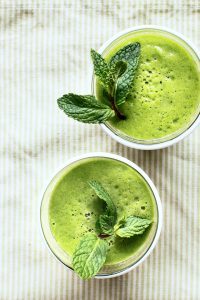 This smoothie has just the right amount of green: green tea, spinach, and mint. The pear, pineapple, and ginger make it bright and fresh and give it a flavor even green smoothie naysayers will love.
Ingredients
1 green tea bag
2 coins of peeled ginger
1 cup boiling water
1 cup baby spinach
1 to 2 sprigs of fresh mint, leaves only
3/4 cup diced pineapple (fresh or frozen)
1 ripe pear, cored and cubed
Small pinch of kosher salt
1/2 cup crushed ice
Honey, to taste
Fresh lemon juice, to taste
Preparation
Place green tea bag and ginger in a 1-cup measuring cup, then top with boiling water. Steep tea for 2 minutes, then remove the tea bag from the water. Steep ginger for 3 minutes longer, then remove the ginger. Let ginger green tea cool before using.
Place cooled tea, spinach, mint, pineapple, pear, salt and crushed ice in a blender, and blend until smooth. Season to taste with honey and lemon juice. Enjoy immediately.
Recipe Credit: kitchenkonfidence.com
(Visited 111 times, 1 visits today)
DISCLAIMER: This website is not intended to provide medical advice or to take the place of medical advice and treatment from your personal physician. Visitors are advised to consult their own doctors or other qualified health professional regarding the treatment of medical conditions. The author shall not be held liable or responsible for any misunderstanding or misuse of the information contained on this site or for any loss, damage, or injury caused, or alleged to be caused, directly or indirectly by any treatment, action, or application of any food or food source discussed in this website. The U.S. Food and Drug Administration have not evaluated the statements on this website. The information is not intended to diagnose, treat, cure, or prevent any disease.