Recipes Containing Apple Cider Vinegar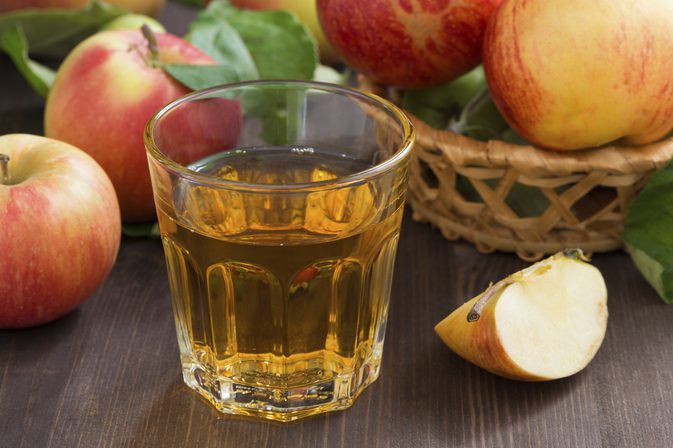 Apple cider vinegar is a common form of vinegar and has many health benefits, including weight loss. It contains an active ingredient called acetic acid, which helps prevent a person from gaining body fat. Also if apple cider vinegar is taken before your main meals, it helps in reducing insulin levels. The antiglycemic effect of apple cider vinegar is very beneficial for people with type 2 diabetes if consumed on a regular basis. It also helps fix your tummy woes, from upset stomach to bacterial infections to intestinal spasms. Just mix one or two tablespoons into the water and sip it. Germ fighting apple cider vinegar helps relieve a sore throat. Most germs are unable to survive in the acidic environment of vinegar.
You don't need to take a straight shot to reap the benefits of apple cider vinegar. These simple apple cider vinegar recipes help you get your required dose of apple cider vinegar:
Apple Pie Apple Cider Vinegar Drink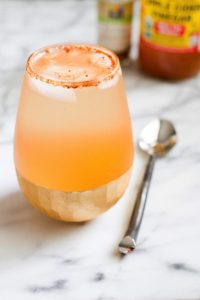 The "apple" part of the name acts as inspiration for the flavors in this no-sugar-added mocktail. Combine apple cider vinegar with a splash of apple juice and a hint of stevia to tame the potential pungency of the vinegar.
Ingredients
2 Tablespoons apple cider vinegar
2 Tablespoons no sugar added organic apple juice
6 ounces of cold water
4 drops of liquid vanilla stevia
sprinkle of cinnamon
1-2 cubes of ice
Preparation
Combine all ingredients in a cup and stir or shake to combine. Taste and add more stevia if necessary. Serve chilled or over ice.
Recipe Credit: eatingbirdfood.com
Melon Drinking Vinegar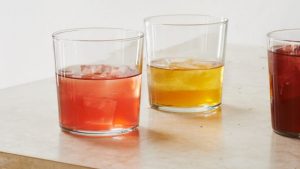 Does the thought of drinking vinegar make you, well, screw your face up? Well, reserve your judgment until you've tried this refreshing and healthy beverage.
Ingredients
650ml raw unpasteurized organic apple cider vinegar
1kg (prepped weight) rockmelon or similar melon
275g unrefined organic sugar
Preparation
Buy the best melon you can find. Look for one that's fragrant and sweet.
Cut the melon in half and then cut into roughly 10 slices.
Cut into each slice from top to tail to make lots of small pieces, roughly 1 cm width (don't cut through the rind)
Then run the knife along inside of the rind on each slice and drop all the small pieces of melon in a container.
Add the sugar, gently stir and mix well.
Cover with a lid.
Set aside for 24 hours in the fridge.
Add the apple cider vinegar, stir gently and thoroughly.
Cover with a circle of parchment paper sitting on the liquid to prevent the bobbing fruit from being exposed to the air and oxidizing further.
Stir and taste it daily to follow the change in flavors for up to three days.
When it's ready it should be fresh and fragrant like that of a perfect melon.
Strain through a conical sieve. (Don't squeeze the fruit, keep that in the fridge and eat it.)
Bottle the liquid and store in the fridge. Drink with soda and ice at a 1:4 ratio or try it with a spirit.
Recipe Credit: goodfood.com.au
Fire Cider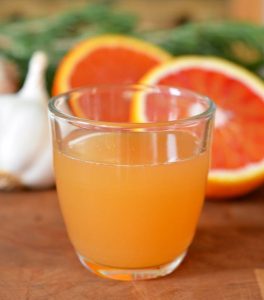 When you first read through the recipe for fire cider, you'll probably find it a bit overwhelming and intimidating. It includes horseradish, garlic, and onion along with ginger, rosemary, and honey all in an apple cider vinegar base. But once you give this infusion a try, we bet you'll be a believer in its soothing punch.
Ingredients
1/2 cup peeled and diced horseradish
1 and a half cup peeled and diced garlic
1.5 cup peeled and diced onion
1/4 cup peeled and diced ginger
1/4 cup peeled and diced turmeric
1 habanero chile, split in half
1 orange, quartered and thinly sliced crosswise
1/2 lemon, quartered and thinly sliced crosswise
1/2 cup chopped parsley
2 tablespoons chopped rosemary
2 tablespoons chopped thyme
1 teaspoon black peppercorns
2 to 3 cups raw unfiltered apple cider vinegar (at least 5% acidity)
1/4 cup raw honey, or more to taste
Preparation
Place all of the vegetables, fruits, herbs, and spices in a clean 1-quart jar. Fill the jar with vinegar, covering all the ingredients and making sure there are no air bubbles. Cap the jar. If using a metal lid, place a piece of parchment or wax paper between the jar and the lid to prevent corrosion from the vinegar. Shake well.
Let the jar sit for 3 to 6 weeks, shaking daily (or as often as you remember).
Strain the vinegar into a clean jar. Add honey to taste. Refrigerate and use within a year.
Recipe Credit: thekitchn.com
Sauteed Red Cabbage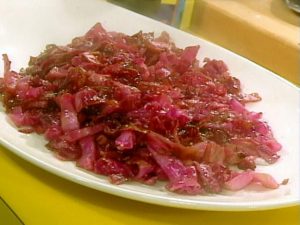 Enjoy the benefits of apple cider vinegar that is used in this recipe. Also if you are used to eating green cabbage, I encourage you to try the special flavor and nutrients found in red cabbage. It tastes great and you will also benefit from its rich concentration of health-promoting vitamins A, C, and K. Enjoy.
Ingredients
Preparation
Heat a skillet over medium-high heat. Add oil and onion and saute 2 minutes. Then add cabbage and turn in the pan, sauteing it until it wilts 3 to 5 minutes. Pour vinegar to the pan and turn the cabbage in it. Sprinkle sugar over the cabbage and turn again. Season with mustard seed, salt, and pepper and reduce heat a bit. Let cabbage continue to cook 10 minutes or until ready to serve, stirring occasionally.
Recipe Credit: foodnetwork.com
Apple Cider Vinegar Dressing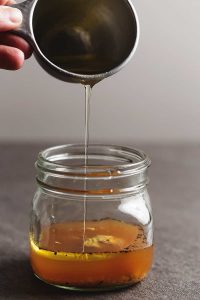 This apple cider vinegar dressing is so easy to make…no blender needed! Just add everything to a jar and shake it up!
Ingredients
1/2 

cup

 

Apple Cider Vinegar

1/2

 

cup

 

Olive Oil

1

 

tablespoon

 

Dijon mustard

1/4

 

teaspoon

 

Salt

1/4

 

teaspoon

 

pepper

1

 

clove

 

Garlic, finely minced

2

 

tablespoons

 

Sweetener of choice
Preparation
You will need a jar with lid for this recipe. Add all ingredients to a jar with a lid and shake vigorously to combine.
Recipe Credit: jenniferbanz.com
(Visited 509 times, 1 visits today)
DISCLAIMER: This website is not intended to provide medical advice or to take the place of medical advice and treatment from your personal physician. Visitors are advised to consult their own doctors or other qualified health professional regarding the treatment of medical conditions. The author shall not be held liable or responsible for any misunderstanding or misuse of the information contained on this site or for any loss, damage, or injury caused, or alleged to be caused, directly or indirectly by any treatment, action, or application of any food or food source discussed in this website. The U.S. Food and Drug Administration have not evaluated the statements on this website. The information is not intended to diagnose, treat, cure, or prevent any disease.