Anti-Inflammatory Recipes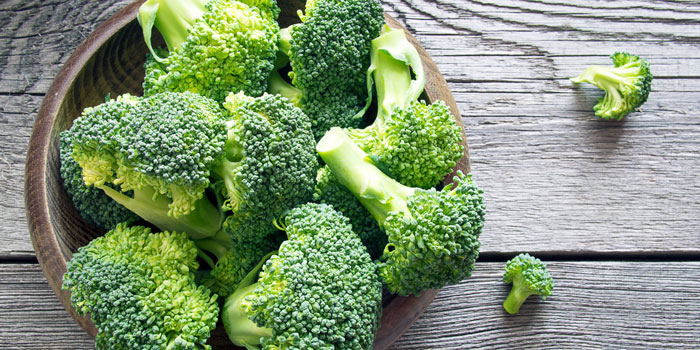 An anti-inflammatory diet can help combat issues such as digestion problems, fatigue, moodiness, issues with weight management, and food cravings. Inflammation also happens to be seen as the root cause of many diseases, like arthritis, diabetes, and cancer. Consult a professional when dealing with any of these problems, but one of the ways that we can all help ourselves is by introducing more anti-inflammatory foods into our diet.
Chronic inflammation is very damaging to the body. To help fight any harmful effects, here are a few delicious recipes to reduce inflammation in the body:
Herbal Chamomile Health Tonic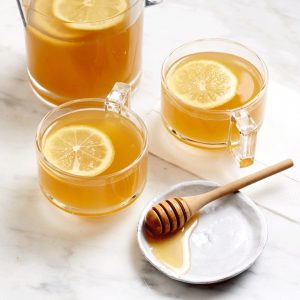 Immunity-boosting ingredients such as ginger, lemon, and rosemary are steeped with soothing chamomile tea and honey for a homemade health tonic. This drink may help when you're sick. Drinking wellness tonics, like this one, regularly over time may help boost your immune system. Serve hot, room temperature or cold.
Ingredients
4 cups boiling water

6 bags of chamomile tea

2 teaspoons grated fresh ginger

4 slices lemon

2-4 teaspoons honey

2 sprigs rosemary, lightly bruised
Preparation
Stir boiling water, tea bags, ginger, lemon, honey and rosemary together in a large heatproof bowl. Steep, stirring occasionally, for 20 minutes. Strain the liquid through a fine-mesh sieve, pressing on the tea bags to get as much liquid out as possible.
Recipe Credit: eatingwell.com
Maple Mustard Salmon & Broccoli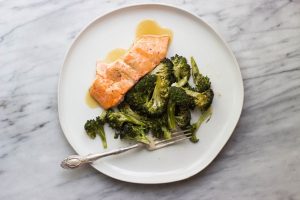 Salmon helps your body burn off fat rather than store it. The omega-3 fatty acids in salmon are healthy fats that directly inhibit inflammation. Salmon also provides you vitamin D. Studies show that low levels of vitamin D have been linked to retaining fat instead of burning fat. Wild salmon has more omega-3s than farmed so choose wisely.
Ingredients
1 large head broccoli, cut into florets (about 4 cups)
1-2 Tbsp. oil
Coarse salt and ground black pepper
1-1 ½ lbs. fresh salmon, cut into 4 filets
3 Tbsp. pure maple syrup
3 Tbsp. Dijon mustard
Preparation
Preheat the oven to 400 degrees. Coat a baking dish with cooking spray.
Add broccoli to the baking dish and coat with oil and season with salt and pepper. Toss to coat. Roast for 8-10 minutes. Remove baking dish from the oven, slide the broccoli over and place salmon filets in the baking dish. Season salmon with salt and pepper. In a small bowl, whisk together maple syrup and Dijon mustard. Pour about ¾ of the mixture evenly over the salmon filets. Roast salmon and broccoli for 8-10 minutes, depending on the thickness of the filets, just until salmon just barely flakes with the pressure of the back of a fork. Optional: Broil on low for 2 additional minutes to give the salmon a crispy top (Caution: Do not overcook the salmon. It's overcooked when it's dry and rubbery.)
Serve salmon and broccoli with the remainder of the maple mustard sauce.
Recipe Credit: thegourmetrd.com
Crunchy Fresh Broccoli Salad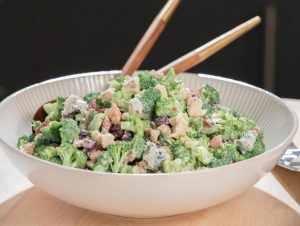 This Crunchy Fresh Broccoli Salad is the perfect lunch for an anti-inflammatory diet! It's also versatile, to meet all of your mealtime needs! It can be rolled up in a whole grain tortilla or sandwiched between rustic bread for a quick and portable lunch that's light and delicious.
Ingredients
1 head broccoli, broken into small florets (about 2 cups)
2 cups kale, white parts removed and chopped
1/2 small red onion (about 1/2 cup), finely diced
1 cucumber, peeled, seeded and diced (about 1 3/4 cups)
2 cups seedless red grapes, cut into fourths
1/2 cup slivered almonds
1 cup cooked quinoa (1/3 cup dry), cooled
2 teaspoons apple cider vinegar
2 tablespoons vegan mayonnaise
1 tablespoon agave nectar
1 1/2 tablespoons lemon juice
1 teaspoon poppy seeds
1/2 teaspoon ground sea salt
1/4 teaspoon freshly ground black pepper
Preparation
Prepare and chop all ingredients.
Add broccoli, kale, red onion, cucumber, grapes, almonds, and quinoa to a large bowl.
In a small bowl, combine apple cider vinegar, mayonnaise, agave, lemon juice, poppy seeds, salt, and pepper. Stir with a spoon or whisk and add the dressing to the vegetable mix. Stir until combined and serve.
Recipe Credit: onegreenplanet.org
(Visited 263 times, 1 visits today)
DISCLAIMER: This website is not intended to provide medical advice or to take the place of medical advice and treatment from your personal physician. Visitors are advised to consult their own doctors or other qualified health professional regarding the treatment of medical conditions. The author shall not be held liable or responsible for any misunderstanding or misuse of the information contained on this site or for any loss, damage, or injury caused, or alleged to be caused, directly or indirectly by any treatment, action, or application of any food or food source discussed in this website. The U.S. Food and Drug Administration have not evaluated the statements on this website. The information is not intended to diagnose, treat, cure, or prevent any disease.