Apple Cider Vinegar Why and How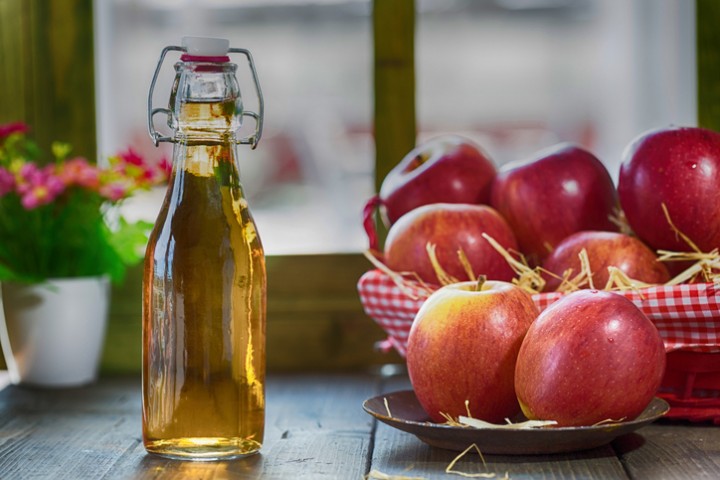 Apple cider vinegar has been used for centuries in cooking and medicinally. In order to get the health benefits from apple cider, it has to be raw and unpasteurized which keeps the beneficial enzymes and trace minerals intact. Apple cider vinegar is good for your body in many ways.
Apple Cider Vinegar Benefits
Here are some benefits of apple cider vinegar that really work:
It Balances Blood Sugar: Apple Cider Vinegar has been shown to have numerous benefits for improving insulin function and blood sugar levels. This is the benefit of the most scientific data.
It Helps In Healthy Weight Loss: The acetic acid in apple cider has been shown in to increase satiety, helping you eat less food, resulting in weight loss.
It Reduces Cravings: The blood sugar balancing aspect of apple cider can reduce cravings for sweets. If you're having a sugar craving, drink 8 ounces of water with 1 tablespoon cider and your craving should go away.
It Improves Cholesterol: Apple cider can protect cholesterol from oxidation or damage, which is the main risk of high cholesterol. It contains chlorogenic acids that help lower LDL or bad cholesterol, preventing it from accumulating and crystallizing in the bloodstream.
It is a Fantastic Disinfectant and Bacteria Killer: Hippocrates used vinegar to treat wounds over 2000 years ago. Modern research has shown it can kill certain types of bacteria like E. coli and S. aureus. It may not be as effective as Clorox but it is a much safer product to use in your home.
How to use Apple Cider Vinegar?
Vinegar can be used directly in your salad, on your fish dressing and even with your steak But beyond the usual, here are some wonderful ways to get the most out of apple cider vinegar:
As a Daily Drink:  Stir two teaspoons of apple cider vinegar into a large glass of water before bedtime. But remember, always dilute it before drinking. On its own, vinegar's acidic nature means it can be harsh on your throat and damage your teeth.
As an Alternative to Salt: Trying to cut down on your sodium intake? Swap salt for a dash of apple cider vinegar to enhance the flavor of your usual meals.
As a Salad Dressing:  Whisk it together with olive oil, honey and lemon juice trickled over crisp salad leaves.
As a Foot Soak: There's nothing like an at-home spa treatment after a long day. And if you're dealing with cracked heels, foot odor or fungal infections, soaking your feet in unfiltered vinegar could help. To try, add one-part vinegar and two parts warm water to your foot bath. Soak for 10 to 15 minutes for smooth, silky skin.
(Visited 539 times, 1 visits today)
DISCLAIMER: This website is not intended to provide medical advice or to take the place of medical advice and treatment from your personal physician. Visitors are advised to consult their own doctors or other qualified health professional regarding the treatment of medical conditions. The author shall not be held liable or responsible for any misunderstanding or misuse of the information contained on this site or for any loss, damage, or injury caused, or alleged to be caused, directly or indirectly by any treatment, action, or application of any food or food source discussed in this website. The U.S. Food and Drug Administration have not evaluated the statements on this website. The information is not intended to diagnose, treat, cure, or prevent any disease.