Is Your Sunscreen Toxic? What You Should Look For When Buying Sunscreen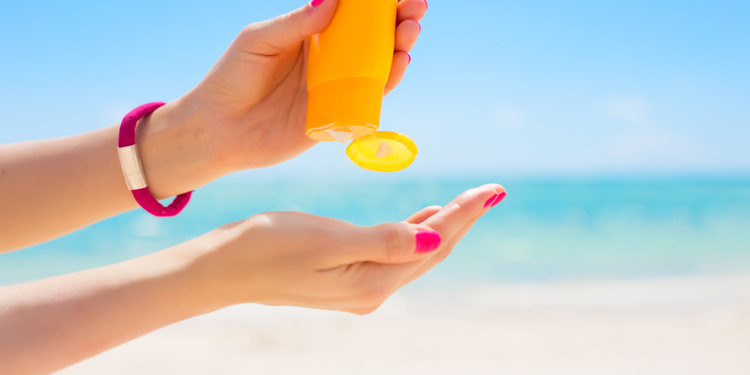 We know that the sun's rays do more damage than before and for this reason, many doctors recommend using sunscreen daily. When we apply creams on our bodies without knowing what they contain, we run the risk of absorbing harmful toxins that can generate adverse effects on our skin.
What Ingredients Should We Avoid?
Oxybenzone: This penetration enhancer (i.e., a chemical that helps other chemicals penetrate the skin) undergoes a chemical reaction when exposed to UV rays. When oxybenzone is absorbed by your skin, it can cause an eczema-like allergic reaction that can spread beyond the exposed area and last long after you're out of the sun. Adolescent boys with high oxybenzone levels have lower total testosterone levels and it may contribute to specifically lower sperm levels in grown men. Oxybenzone has also been linked to endometriosis in older women and lower birth weights in newborn girls.
Octinoxate: One of the most common ingredients found in sunscreens with SPF, octinoxate is readily absorbed by our skin and helps other ingredients to be absorbed more readily. While allergic reactions from octinoxate aren't common, hormone disruption is: the chemical's effects on estrogen can be harmful to humans.
Homosalate:  This UV-absorbing sunscreen ingredient helps sunscreen to penetrate your skin. Once the ingredient has been absorbed, homosalate accumulates in our bodies faster than we can get rid of it, becomes toxic and disrupts our hormones.
Octocrylene:  When this chemical is exposed to UV light, it absorbs the rays and produces oxygen radicals that can damage cells and cause mutations. It is readily absorbed by your skin and may accumulate within your body in measurable amounts. Plus, it can be toxic to the environment.
Retinyl Palmitate: It is a form of vitamin A that can damage the skin and possibly cause skin tumors.
What Ingredients Should We Look for?
Use a mineral-based natural sunscreen:  Make sure your sunscreen is a mineral sunscreen and not a chemical one. The key mineral ingredient to look for is either ZINC OXIDE and/or TITANIUM DIOXIDE. These are natural sunscreens that give you the best protection without the commonly found hormone-disrupting ingredients you'll find in most drugstore brands.
Anything above SPF 50 doesn't make a difference:  Many sun care products are labeled with SPF ratings over 50. Common sense tells you that the higher the SPF, the more protection you're getting. But this is just a marketing ploy to get your attention. When it comes to anything over 50, there's only a very slight difference between something with an SPF 50 and SPF 100; don't be fooled into a false sense of security that you can lather on SPF 100 and not reapply all day. Sky-high SPFs above 50 SPF  only refers to protection against UVB rays that burn skin.
Stay away from spray sunscreens:  Even the safest mineral sunscreens are intended to be applied topically, not ingested. So don't buy a spray which when used as intended will inevitably be inhaled. Additionally, you may not be getting the protection you desire with a spray because, in liquid form, it doesn't cover the skin completely and may not hit all the areas you need to cover.
(Visited 144 times, 1 visits today)
DISCLAIMER: This website is not intended to provide medical advice or to take the place of medical advice and treatment from your personal physician. Visitors are advised to consult their own doctors or other qualified health professional regarding the treatment of medical conditions. The author shall not be held liable or responsible for any misunderstanding or misuse of the information contained on this site or for any loss, damage, or injury caused, or alleged to be caused, directly or indirectly by any treatment, action, or application of any food or food source discussed in this website. The U.S. Food and Drug Administration have not evaluated the statements on this website. The information is not intended to diagnose, treat, cure, or prevent any disease.