Recipes to Boost Your Magnesium Intake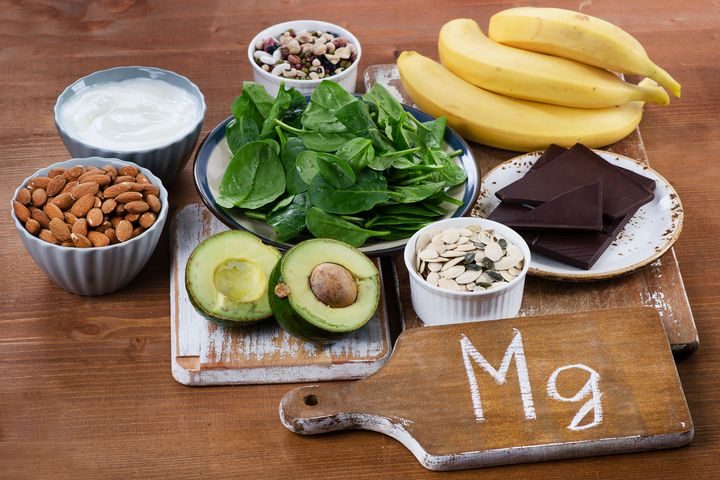 Magnesium powers more than 300 chemical reactions in your body, some of which include maintaining a steady heart rhythm and regulating blood sugar levels. Magnesium coined the "miracle mineral", this nutrient can also alleviate bloating and constipation while reducing fluid retention. Do you constantly feel sluggish and groggy? Are you suffering from an inability to relax? You might be dealing with a magnesium deficiency.
Here are some of the recipes you can include in your diet to increase the level of your Magnesium intake:
Lemon-Caper Black Cod with Broccoli & Potatoes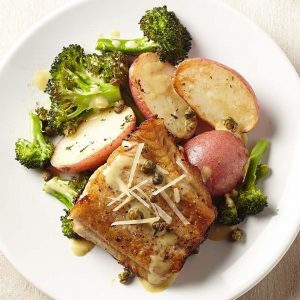 With 100 mg magnesium, this is the perfect dish to include in your diet to increase your Magnesium intake. In this healthy, 30-minute fish recipe, cooking the fillets skin-side down makes it easy to keep them intact when you flip them.
Ingredients
1 pound baby potatoes, halved
12oz precut broccoli florets
4 tbsp extra- virgin olive oil, divided
1/2tsp kosher salt, divided
1/4tsp ground pepper
2tbsp capers, rinsed and patted dry
2tbsp lemon juice
1tbsp Dijon mustard
1 clove garlic, minced
1tbsp chopped fresh thyme or 1/4 tsp dried
3tbsp shredded parmesan cheese
Preparation
Preheat oven to 450 degrees F. Coat a rimmed baking sheet with cooking spray.
Toss potatoes and broccoli with 1tbsp oil and 1/4 tsp salt in large bowl. Transfer to the preheated baking sheet. Cook, stirring once, until tender, 20 to 25 minutes.
Meanwhile, pat cold dry and cut into 4 portions. Season with the remaining 1/4 tsp salt and pepper. Heat 1tbsp oil in a large nonstick skillet over medium heat. Add capers and cook until golden brown (about 1-2 minutes). Using a slotted spoon, transfer the capers to a paper towel, leaving the oil in the pan. Place the cod skin-side down in the pan. Cook, undisturbed, for 5 minutes. Flip and cook until the fish flakes easily with a fork (3-4 minutes).
Combine the remaining 2tbsp oil, lemon juice, mustard and garlic in a small bowl.
Toss the potatoes and broccoli with thyme. Serve the vegetables and cod drizzled with the lemon vinaigrette and garnished with the capers and Parmesan.
Serve and enjoy!
Recipe Credit:  eatingwell.com
Kale Edamame Dumplings with Simple Dipping Sauce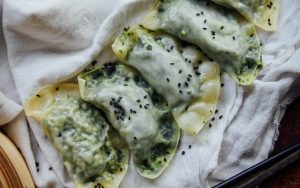 We know that kale is a good source of magnesium, but did you know edamame is, too? The filling comes together in a snap in the food processor, the dumplings cook through in less than five minutes, and the dipping sauce is just whisked together in a bowl. That's it! Make them and eat up!
Ingredients
Dumplings:
3 cups kale, lightly steamed
1 cup edamame beans, steamed
2-3 garlic cloves, chopped
1 tablespoon tahini
1 tablespoon lemon juice
2 green onions, sliced
Salt and pepper, to taste
1 tablespoon maple syrup
Black sesame seeds (optional)
Around 15-20 vegan dumpling skins (look for them in the freezer section in your local Asian supermarket)
Sauce: 
1 tablespoon tamari
1 teaspoon maple syrup
1/4 teaspoon chipotle powder
1 tablespoon rice vinegar
Preparation
To Make the Filling:
Blend all ingredients together in a food processor until you get a chunky paste. Taste and adjust accordingly.
To Assemble the Dumplings: 
Place about a tablespoon of the filling on each dumpling skin. Moisten the edge of the skin halfway around with some water with your fingers. Fold over, creating a half-moon shape. Press firmly and create small folds along the edge.
Steam the dumplings until the skin is somewhat transparent, about three to five minutes. If you don't have a steamer it's ok to fill the bottom of a pan with water and steam the dumplings, covering the pan with a lid.
Garnish with sesame seeds.
To Make the Sauce:
Stir all ingredients together in a small bowl.
Recipe Credit: onegreenplanet.org
Magnesium Mania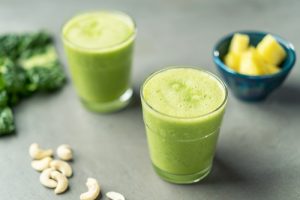 This magnesium-rich smoothie helps to strengthen almost every system in your body.  Enrich your diet by including more magnesium by including this recipe in your diet.
Ingredients
1/2 Cup Spinach
1 and a half Cup Swiss Chard
Mango 1/2 Cup
One and a half Cup Pineapple
1 Tablespoon Pumpkin Seeds
10 Cashews
1 and 1/2 Cups Water
Preparation
Add all ingredients to your Tall Cup and extract for 30 seconds, or until smooth.
Enjoy!
Recipe Credit: nutriliving.com
(Visited 500 times, 1 visits today)
DISCLAIMER: This website is not intended to provide medical advice or to take the place of medical advice and treatment from your personal physician. Visitors are advised to consult their own doctors or other qualified health professional regarding the treatment of medical conditions. The author shall not be held liable or responsible for any misunderstanding or misuse of the information contained on this site or for any loss, damage, or injury caused, or alleged to be caused, directly or indirectly by any treatment, action, or application of any food or food source discussed in this website. The U.S. Food and Drug Administration have not evaluated the statements on this website. The information is not intended to diagnose, treat, cure, or prevent any disease.